Frequently Asked Questions
Who is organising this summer course?
The Sustainable Cities Summer Course is a cooperation between the Dieter Schwarz Foundation and United World College Robert Bosch College (UWC RBC). 
"Promote education, share knowledge, venture future" is the guiding principle of the Dieter Schwarz Foundation, which supports with its commitment today what makes tomorrow's society strong: a wide range of educational opportunities targeting people at different stages of their lives. Education lays the foundations not only for living an autonomous life but also for the prosperity of society.
UWC RBC is an international boarding school with 200 students from more than 100 countries, located in Freiburg, Germany. It is part of the United World College educational movement.
16.07.2023 – 24.07.2023(**) The first half of our Sustainable Cities Summer Camp will take place in Freiburg at UWC Robert Bosch College.

24.07.2023 **) – 29.07.2023
The second half of the camp will take place in Heilbronn at the
Experimenta
.
(** Note: the exact date when we move from Freiburg to Heilbronn is still subject to change as part of our planning process)
Experience gives rise to knowledge. That is the philosophy of experimenta, Germany´´´´ s largest science center. With its affirmation of "lifelong learning" experimenta is committed to this intergenerational approach, inspiring its invitation to visitors of all ages.
The Discovery Worlds, more than 270 interactive stations in the exhibition, are spread out on four levels and have something for everyone. The stations not only encourage critical thinking, the unraveling of mysteries, and experimentation, but also occasionally require use of the body. Entirely in keeping with the motto "Experience facilitates knowledge".
In the Experience worlds, visitors explore unknown worlds without visual limits. Access to the Science Dome, Experimental Theater, Observatory, Experimenta Labs, Experiment Kitchen and Maker Space further offer numerous opportunities to explore different interests and passions.
The theme of the Maker Space is "From theory to practice". This open platform is free-of-charge and is a venue for teens and young adults ages 14 to 25 and older guests as well to develop and create, program and discuss. Movers and doers can pursue their own projects here. The facilities include a wood workshop, several 3D printers, a sewing and photo studio with green screen.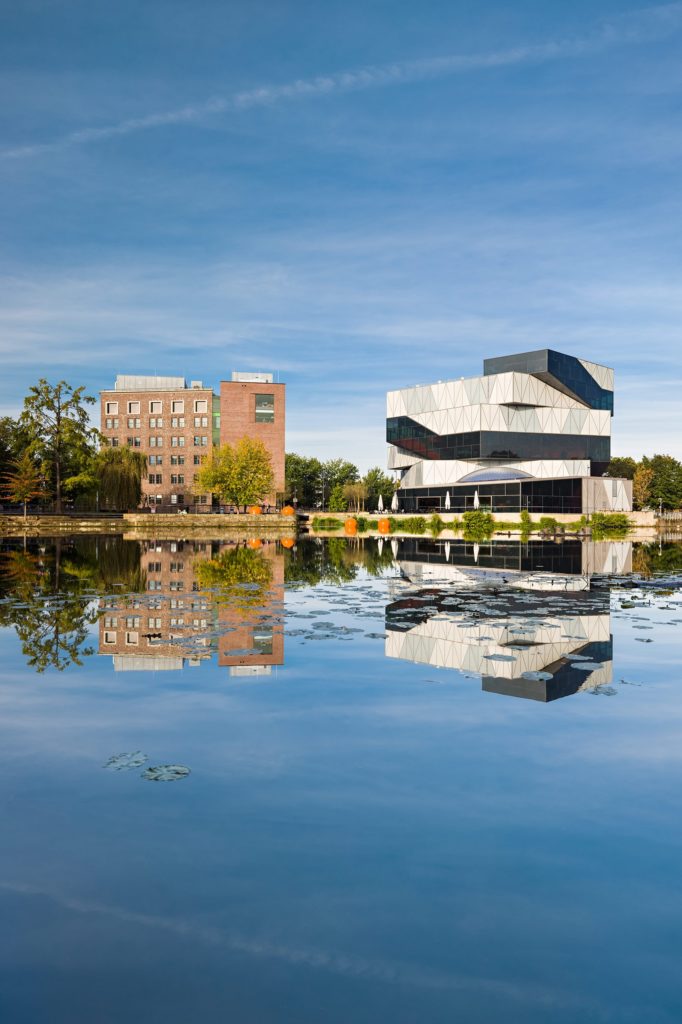 Who can apply?
Anyone who by 15th of July 2023 is between 16 and 18 years old can apply. Applicants should feel comfortable to have conversations in English language – and be curious about sustainable cities!
The camp is not limited to applicants currently residing in Europe but for sustainability reasons we do not want to encourage flying internationally – see below for more details on this.
For more details on applying, see here.
Can applicants from outside Europe apply?
While we aim for a high degree of diversity among our camp participants, we are also concerned about the environmental impact of the camp. This puts us into a difficult position when it comes to applicants taking long-distance flights just to attend our camp. We have decided that we will not limit the summer camp to applicants from Europe but that
we will

only pay for (sustainable) travel inside Europe
we will make the environmental impact of travelling one of the criteria we consider in our selection – so among otherwise comparable candidates, we will select those who do not need to fly long distance to attend our course
 We understand that this may seem unfair to those of you outside Europe, but we believe that in face of the climate emergency we need to very carefully weigh the costs and benefits of our actions.
Why are there two different application deadlines in 2023?
In 2023, we decided to introduce two application deadlines – one on 16 April and another one on 30 April. The earlier application deadline is for international participants where we may need more time to arrange travel or potentially visa issues.
We will select half of the participants after the first deadline (16 April). Applicants who were not successful in this first selection round will be considered again in the second selection round after the second deadline (30 April), together with applications that came between 16 and 30 April.
Applicants from outside Germany are strongly encouraged to apply by the earlier deadline (16 April). International applications after that deadline will only be considered if we think that there is still enough time to arrange transport and visas.
German residents can apply either for the earlier or the later deadline.
Will I need to pay anything during the two weeks?
If you are admitted to the summer course then all costs (accommodation, breakfast, lunch and dinner and transport during the two weeks) are covered. This project is supported and financed by the Dieter Schwarz Foundation. The only thing you will need to pay for yourself are (optional) personal expenses, e.g. going for an ice cream in the city.
For transport to and from Freiburg, see below.
Will I need to pay for my travel to and from Freiburg?
For participants travelling within Germany, 
transport costs to and from Freiburg will be fully covered.
For participants travelling from elsewhere in Europe, we aspire to also cover all travel expenses but we will need to assess this on a case-by-case basis.
Our aim is that nobody will be excluded because they cannot afford travel!
Where will we stay?
The course will partially take place on the 
United World College Robert Bosch College
 (UWC RBC) campus in Freiburg, Germany and in Heilbronn. Course participants will be accommodated in student houses of this international boarding school and a youth hostel.
Will I share a room?
Generally, course participants will live in shared rooms (two participants in a room that normally accommodates four students on UWC RBC Campus and four people in a room at the youth hostel in Heilbronn). However, in exceptional circumstances, we may be able to provide single rooms – please
contact us
to discuss this.
What food will be provided?
We are currently planning to provide vegetarian food and, if required, ensure that there are vegan options.
If you have additional dietary requirements then please feel free to
contact us
.
In addition to the food provided for the course, there are also various fast-food places (Wok, döner kebab, pizza etc) at a nearby shopping centre where you can buy your own food (e.g. if you cannot live for two weeks without meat!).